There are two graves in St Patrick's cemetery in East London that stand out.

They are bright white against a sea of grey stone.

There are the graves of two five-year-olds who lost their lives 100 years ago today.

There were boys on the second floor of Upper North Street Primary, girls on the first floor and, on the ground floor, a class of infants.

It was the infant class in which they counted 16 of the 18 bodies. Most were just five years old.

The raid on 13 June 1917 was the first ever daylight raid by the Germans over the British Isles.

And what followed was a national outcry.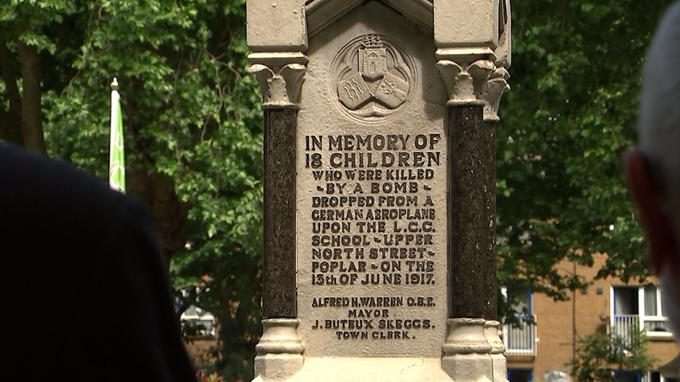 http://www.itv.com/news/2017-06-13/the-18-children-killed-by-a-german-bomb-in-wwi-who-changed-the-course-of-royal-history/
Quite fitting to remember all the kids that died in that bombing and of course all the other kids who died as well.
And it wasn't the only trajety on June 13 either........

Irn Bru

Senior Member




Posts

: 764


Join date

: 2011-02-25


Location

: Edinburgh



The massive explosion that killed dozens and devastated a town - 100 years ago today

The Hooley Hill munitions factory in Ashton-under-Lyne - one of many that produced explosives during World War One - was ripped apart in a colossal blast that wrecked a large area of the town.

One of World War One's forgotten tragedies happened 100 years ago today - but instead of the the battlefields of Europe, it struck right here on our doorstep.

Wednesday June 13 1917 had begun as a normal day at the Hooley Hill Rubber and Chemical Company in Ashton-under-Lyne, one of many munitions factories that had been created since the start of the Great War in 1914.

But the day would end in a disaster that took many lives and tore a large part of the town apart.

Forty-six people were killed, including children making their way home from school. Hundreds more were injured, and buildings and houses were destroyed or damaged across a two-mile area.
http://www.manchestereveningnews.co.uk/news/nostalgia/ashton-munitions-explosion-1917-war-13174570.amp
A sad day across the UK with a devastating loss of life here at home as well as in the trenches in France etc.
A senseless war if ever there was one.

Irn Bru

Senior Member




Posts

: 764


Join date

: 2011-02-25


Location

: Edinburgh



---
Permissions in this forum:
You
can
reply to topics in this forum