'Version 1 of WannaCrypt was stoppable but version 2.0 will likely remove the flaw. You're only safe if you patch ASAP,' says accidental hero, 22, who shut down major attack

A second version of the devastating WannaCry ransomware — that does not contain the 'kill switch' used by a 22-year-old security analyst to shut down many attacks — has been reportedly released by the hackers, putting more computers at risk.

Costin Raiu, of web security firm Kaspersky Lab, told Hacker News that they had seen versions of the malware which did not contain the domain name used to shut down the initial program.

Hidden in the code was an unregistered web address which the virus would always try to contact when first infecting a computer. If it received a reply, it would shut down, but if not it would carry out the attack.

A 22-year-old security analyst known as MalwareTech, who wishes to remain anonymous, registered the website, unknowingly activating the shutdown process.

However he warned that it would be easy for the hackers to change WannaCry's code to remove the domain name and it now appears that has happened.

Mr Raiu said: "I can confirm we've had versions without the kill switch domain."

MalwareTech also told Hacker News that they had only stopped one version of WannaCry, which is known by various versions of the name.

Nissan's Sunderland factory latest victim of massive cyber-attack

"WannaCrypt ransomware was spread normally long before this and will be long after, what we stopped was the SMB worm variant," he said, referring to the program that affected nearly a fifth of NHS Trusts in England and scores of businesses and government departments around the world.

And in a message on Twitter, he wrote: "Version 1 of WannaCrypt was stoppable but version 2.0 will likely remove the flaw. You're only safe if you patch ASAP."

He also retweeted a message saying people who were unable to patch their computer could disable Server Message Block version 1 (SMBv1), linking to Microsoft's instructions about how to do this.

http://www.independent.co.uk/life-style/gadgets-and-tech/news/nhs-cyber-attack-wannacry-ransomware-computers-infected-virus-malwaretech-a7734911.html


One of the main reasons it succeeded was that the NHS had it's security contract cancelled by the Government in 2015 after they were warned something like this could happen as part of the savings on the NHS and they are still running Windows XP. Amber Rudd has now said that patient records could have been lost.


Now folks, guess what? What else is running on Windows XP? TRIDENT!

Sassy

Senior Member




Posts

: 1620


Join date

: 2014-08-06



CBS/AP May 14, 2017, 7:39 AM

Cyberattack hit more than 100,000 groups in at least 150 countries, Europol says

      LONDON --

 The international "ransomware" cyberattack has so far hit more than 100,000 organizations in at least 150 countries, says Europol, the European Union's police agency.

Spokesman Jan Op Gen Oorth said Sunday that the number of individuals who have fallen victim to the cyber extortion attack could be much higher. 

He said it was too early to say who is behind the onslaught and what their motivation was. He said the main challenge was the fast-spreading capabilities of the malware, but added that, so far, not many people have paid the ransoms that the virus demands.

He warned that more people may be hit by the virus Monday when they return to work and switch on their computers.

The attack, which began Friday, is believed to be the biggest online extortion attack ever recorded, with victims including Britain's hospital network and Germany's national railway.   

Chinese media reported Sunday that the "ransomware" virus attacked many university networks in China. The Beijing News said that students at several universities around the country reported being hit by the virus, which blocked access to their thesis papers and dissertation presentations. 

http://www.cbsnews.com/news/cyberattack-hit-more-than-100000-groups-in-at-least-150-countries-europol-says/
Well, we've all enjoyed this WWWEB and now the ability of the unscrupulous/lesser thinking humanoids are flexing their muscles and testing their abilities to F*ck with our data.  But this isn't the first time but it's the first time it's been so humongously far reaching - who knows when it will stop - how the world will be able to protect future internet terrorist plots? 
Just mind blowing and scary. 
And once again ...having institutions get lazy about their data storage and BACKING UP THEIR FILES DAILY will always come back to bite you in the ass if it's not done!  


Aspca4ever

Established Member




Posts

: 438


Join date

: 2017-02-16


Age

: 63


Location

: heartland of America - FlintHills of Kansas



Scrat. wrote:As the greatest threat to humankind is now cyber attacks, i don't think that spending £205BN on a "sell by date" thermonuclear device is a good idea.

Perhaps we can spend £105BN on bringing our social infrastructure back into kilter with a fair and decent society and spend the other £100BN on our creative British scientists utilising military technonlogy to build a British Moonbase and fund a mission to Mars.

Use the change from this to upgrade our software!
I agree with you, Scrat; and as I've been well aware that staying up todate with technology - even for my own personal use here in my home, was going to be a priority for me! 
That the issues and horrible situation that our Veterans are suffering from the archaic/convoluted/boondoggle that is the VA computerized software/data base system that houses all of the Veterans vital information to make their ability to access meds/obtain treatment/get their service records ...it's CHAOS and inexcusable. 
The FY 2017 budget of $582.7 billion complies with the Bipartisan Budget Act of 2015, giving the department both funding stability and protection from the damage of sequestration in FY 2016 and FY 2017.  Within the confines of this negotiated amount, the budget request reflects the priorities necessary for our force today and in the future to best serve and protect our nation in a rapidly changing security environment. 

The base budget of $523.9 billion includes an increase of $2.2 billion over the FY 2016 enacted budget of $521.7 billion.  As specified in the budget agreement, DoD's FY 2017 overseas contingency operations budget is $58.8 billion, nearly the same as the FY 2016 enacted level of $58.6 billion. The combined request represents a total increase of $2.4 billion, or less than one percent over FY 2016 enacted levels

.

https://www.defense.gov/News/News-Releases/News-Release-View/Article/652687/department-of-defense-dod-releases-fiscal-year-2017-presidents-budget-proposal/
Pathetic - Frustrating - Sickening that America spends so dam much of our annual budget on killing other humans but can't match the funds to take care of our veterans and their well being in their time of need.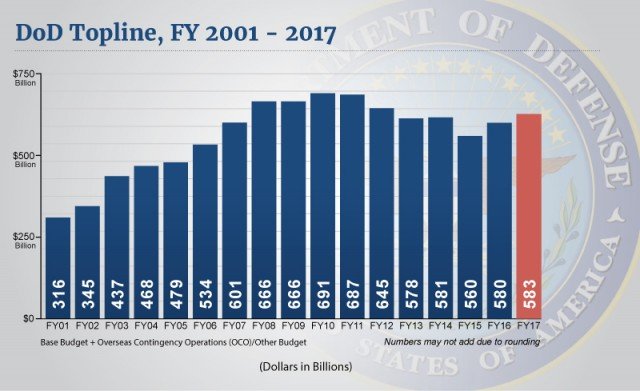 And as Sassy's article about our Nuclear Subs so aptly pointed out ...keeping/maintaining the security systems and up todate software SHOULD BE A TOP PRIORITY and yet it's obviously not! 


Aspca4ever

Established Member




Posts

: 438


Join date

: 2017-02-16


Age

: 63


Location

: heartland of America - FlintHills of Kansas



Scrat. wrote:America is rushing to a military budget of $Trillions, it's madness!
INDEED ...yet this is what generates the most popular hyped up POTUS candidate from prior elections:  Reagan used the 'COMMIE' scare tactics in both of his elections runs - our recent election was rife with the rants from the Orange Julius screeching about "I know more about ISIS than all of those Generals" and his screeching/war drum rhetoric found a NRA base that loved his verbiage.


Aspca4ever

Established Member




Posts

: 438


Join date

: 2017-02-16


Age

: 63


Location

: heartland of America - FlintHills of Kansas



We have war drummers over here, Fallon saying how they would use a pre-emptive nuclear strike. You couldn't make it up!

Sassy

Senior Member




Posts

: 1620


Join date

: 2014-08-06



And guess what happened to the kid who saved the NHS: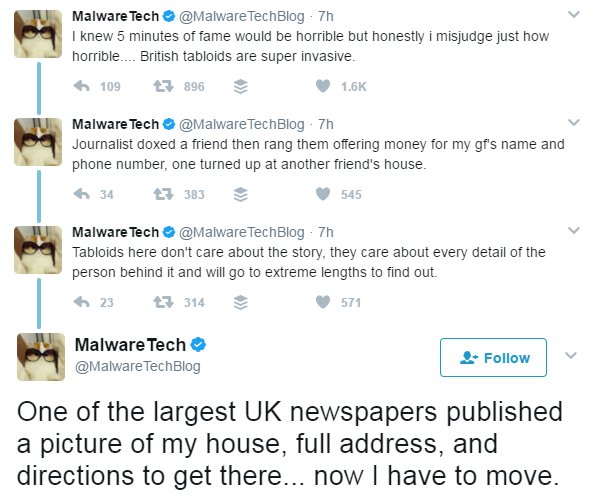 Sassy

Senior Member




Posts

: 1620


Join date

: 2014-08-06



---
Permissions in this forum:
You
can
reply to topics in this forum