Sassy

Senior Member




Posts

: 1881


Join date

: 2014-08-06



US is trying to make out there were no civilian casualities. Anyone who believes that wants their bumbs read. This is what happens when that bomb in dropped: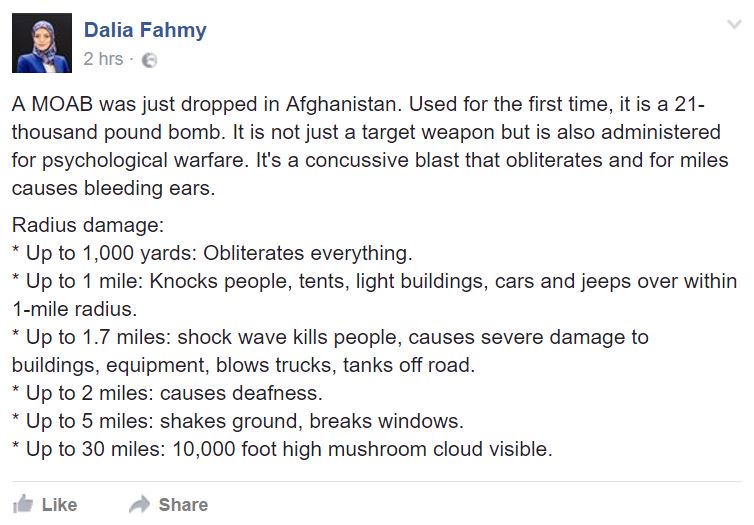 Sassy

Senior Member




Posts

: 1881


Join date

: 2014-08-06



And in case anyone wonders 'WHY' is this tunnel filled location just now coming into the top brass radar for 'BEST TARGET' for all those ISIS rats???
Well, that wasn't such a well kept secret in the least! 
Remember those long 7 yrs that Russia was in Afghanistan bombing/killing/terrorizing the locals ...well, we hired Osama Ben Laden and his motely crew to dig a lot of those tunnels - paid his rag tag band of mercenaries and provided them with superior grade weapons as well. 
During in the 1970s, when the Russia was the biggest threat to America and radical Islam was not as a concern of the USA's, the USA began funding and training Islamic militants to fight our Russian enemies in Afghanistan.

These militants, known as the mujahideen would rebel the Russians out of Afghanistan and later become the Taliban, Al Qaeda and the Muslim Brotherhood.

One of the most prominent members of he mujahideen was a wealthy son of a Saudi Arabian businessman named Osama Bin Laden.

National Security Advisor Zbigniew Brzezinski visited Afganistan in 1979 and met with Bin Laden and even took a picture with him. Brzezinski would tell the mujahideen

We know of their deep belief in God, and we are confident their struggle will succeed. That land over there is yours, you'll go back to it one day because your fight will prevail, and you'll have your homes and your mosques back again. Because your cause is right and God is on your side.

https://youtu.be/OJTv2nFjMBk


The

BBC

,

Canadian Broadcasting Corporation

and the Russian journal

Demokratizatsiya

have all written that the CIA and U.S.A. funded and supported Bin Laden during the Afghan war. 

https://newsone.com/1205745/cia-osama-bin-laden-al-qaeda/
So, it's interesting isn't it ...why the MOAB now - why not during all those years since 2003 when GWB invaded Afghanistan  ...why/what were the military doing that the terrorist were still able to use those tunnels deep within that desolate hilly region.
Lots more to this story, I think.  But it may take another 25 years for all of it to float to the service of those deeply guarded CIA files!


Aspca4ever

Senior Member




Posts

: 511


Join date

: 2017-02-16


Location

: heartland of America - FlintHills of Kansas



Exactly, they guard their nasty little secrets for as long as they can.

Personally, I think they just wanted to test it and Afghanistan was a place where they could do it without anyone protesting.

Sassy

Senior Member




Posts

: 1881


Join date

: 2014-08-06





Similar topics
---
Permissions in this forum:
You
cannot
reply to topics in this forum