Zionism and the Third Reich

by Mark Weber

Early in 1935, a passenger ship bound for Haifa in Palestine left the German port of Bremerhaven. Its stern bore the Hebrew letters for its name, "Tel Aviv," while a swastika banner fluttered from the mast. And although the ship was Zionist-owned, its captain was a National Socialist Party member. Many years later a traveler aboard the ship recalled this symbolic combination as a "metaphysical absurdity."/1 Absurd or not, this is but one vignette from a little-known chapter of history: The wide-ranging collaboration between Zionism and Hitler's Third Reich.

Common Aims

Over the years, people in many different countries have wrestled with the "Jewish question": that is, what is the proper role of Jews in non-Jewish society? During the 1930s, Jewish Zionists and German National Socialists shared similar views on how to deal with this perplexing issue. They agreed that Jews and Germans were distinctly different nationalities, and that Jews did not belong in Germany. Jews living in the Reich were therefore to be regarded not as "Germans of the Jewish faith," but rather as members of a separate national community. Zionism (Jewish nationalism) also implied an obligation by Zionist Jews to resettle in Palestine, the "Jewish homeland." They could hardly regard themselves as sincere Zionists and simultaneously claim equal rights in Germany or any other "foreign" country.
http://www.ihr.org/jhr/v13/v13n4p29_weber.html
More to read in the link above.
Well, Fact or Fiction?

Irn Bru

Senior Member




Posts

: 762


Join date

: 2011-02-25


Location

: Edinburgh



The heart of Zionism is that Jews are better off living together in their own country and not integrated with other religion/creeds etc. And you can see why as they have been persecuted through the centuries. But isn't that exactly what ISIS says about Muslims? Don't integrate, cut yourself off etc etc.

That is why initally the Nazis and the Zionists worked together, it was in both their interests for Jews to leave the country. In fact, the first place that was thought of for them to go was Africa, not Palestine. It was onlly because of the Sykes/Picot Agreement between Britain and France (with a helping hand from Russia) that allowed Britain to colonise Palestine, that led to Zionists lobbying for the Balfour Agreement. It completely negated the promises we had made through Lawrence for a homeland for Arabs in return for the support they had given us against the Otterman Empire. Set the tone for everything that has happened in the ME since.

Sassy

Senior Member




Posts

: 1861


Join date

: 2014-08-06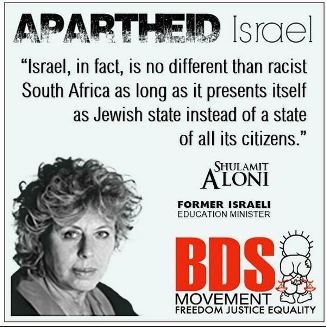 Well surely the former Israeli education minister can't be accsed of being antisemitic.
She's right in what she says and surely that is at least a step in the right direction for Israel as well as recognising a state for Palestine and it's people.

Irn Bru

Senior Member




Posts

: 762


Join date

: 2011-02-25


Location

: Edinburgh



The Israeli lobby are far too active and influential in British politics, they have overdramatised their victim status, and they have even used the endlosung tactics of the Nazis to achieve the same disgraceful effects on the Palestinians.

History should teach all of us not to repeat the atrocities of the past, current Israeli policy is to adopt them.

Similar topics
---
Permissions in this forum:
You
cannot
reply to topics in this forum