Melissa Martin-Hughes, a 'brilliant' A-level student, received no counselling after her psychiatrist went on long-term leave.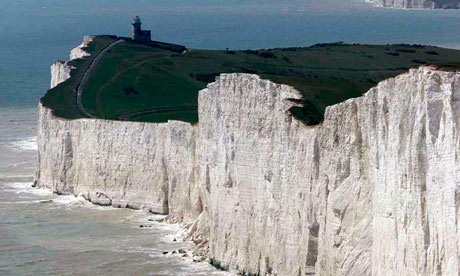 Beachy Head, where Melissa Martin-Hughes was found in a distressed state in 2009. Photograph: Chris Ison/PA
A brilliant 18-year-old A-level student was found hanged in a park after a clear failure by mental health services, an inquest has heard.
Melissa Martin-Hughes started receiving psychiatric help when police found her in a distressed state at Beachy Head in East Sussex, the court was told.
But after just two initial appointments, the psychiatrist who had treated her went on long-term sick leave and nobody took over her case.
Though her parents contacted the 2gether NHS Foundation Trust in Gloucestershire, she was not seen by health professionals again before she was found seven months later by a mother and toddler hanged from a tree in Pitville Park, Cheltenham.
When her parents cleared Melissa's room they found images of crucifixes, graveyards, small demonic faces and a note saying: "God please help me."
The inquest in Gloucester heard that Melissa had experienced "dark episodes" since she was 14 when she began to suffer from acne on her face and upper body. She was prescribed drugs that can cause depression as a side-effect, the inquest heard.
Melissa began to self-harm and was found by police "crying and smelling of alcohol" at Beachy Head in August 2009. The teenager was twice visited by a consultant psychiatrist, Guy Undrill, before he went off sick.
Her father, Donald Hughes, told the inquest that the family felt let down. He said: "After the incident at Beachy Head she underwent assessment locally and had some counselling sessions. Those sessions unfortunately stopped because of a psychiatrist being on long-term sick leave and also Melissa changed assessments because of becoming 18. As a family we do feel let down by the services in this respect."
Hughes, an engineer, said: "We always seemed to be one or two steps behind the system. We knew she was changing from adolescent to adult care but the detail never filtered through to us. We were always trying to find out what was happening."
Undrill told the inquest he went on sick leave after seeing Melissa twice. He accepted that although her mother, Laura, had contacted the crisis team and the primary care assessment and treatment team (PCATT) several times when he was off duty to express her concern, nothing had been done.
At the time of Melissa's death in April 2010, he conceded she had had no contact with mental health services for seven months. He said there were difficulties with the PCATT's message system.
Undrill said: "I think it was a clear failure. Messages were not passed on, notes were not kept. There was a very clear failure there. It is not something that can be defended."
The psychiatrist accepted it was wrong that no one saw Melissa again after his last meeting with her. He agreed with the deputy Gloucestershire coroner David Dooley that there had been a lost opportunity to help her.
Her case had been badly mishandled, he said.
Dooley said: "I give you credit for that open and honest response because it does appear that the message system was in a shambles. There had been a complete breakdown."
Melissa's GP, Simon Ryley, saw her a month before her death because she was suffering from tiredness and was struggling to get to school on time. He did not ask her about depression.
The inquest was told that Melissa, the oldest of four children, was an academic high flier at Pate's grammar school in her hometown of Cheltenham.
After school she planned to take a gap year working at a Christian school in Chile before going to York University to study environmental chemistry. She was also working towards a Duke of Edinburgh gold award.
Her headmaster, Shaun Fenton, said in a statement to the inquest that she was "mature, reliable, responsible, industrious, self-motivating, outstanding, brilliant, exceptional and above all modest". She had been on target to achieve three A* grades at A-Level.
He said staff had noticed that she had started to arrive late for school but she was "adamant there was nothing to worry about". Fenton added: "It was speculated that she was spending too much time on her makeup, which she used to cover her severe acne."
The inquest continues.
http://www.guardian.co.uk/society/2012/feb/27/teenager-hanged-failure-mental-health
Yet more "lessons to be learned" ...and never will be

victorismyhero

sael curunithron





Posts

: 2603


Join date

: 2011-02-15


Location

: cheshire




---
Permissions in this forum:
You
can
reply to topics in this forum