Disclosure likely to intensify controversy over long-running police operation to infiltrate and sabotage protest groups.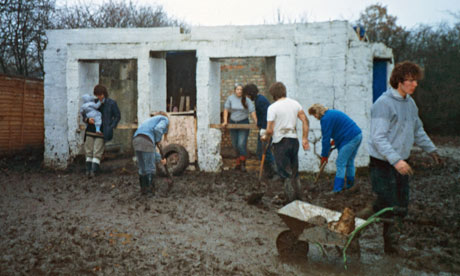 Bob Lambert (far left), with his child. The undercover police officer had a relationship with a woman who is now taking action against the police
Two undercover police officers secretly fathered children with political campaigners they had been sent to spy on and later disappeared completely from the lives of their offspring, the Guardian can reveal.
In both cases, the children have grown up not knowing that their biological fathers – whom they have not seen in decades – were police officers who had adopted fake identities to infiltrate activist groups. Both men have concealed their true identities from the children's mothers for many years.
One of the spies was Bob Lambert, who has already admitted that he tricked a second woman into having a long-term relationship with him, as part of an intricate attempt to bolster his credibility as a committed campaigner.
The second police spy followed the progress of his child and the child's mother by reading confidential police reports which tracked the mother's political activities and life.
The disclosures are likely to intensify the controversy over the long-running police operation to infiltrate and sabotage protest groups.
Police chiefs claim that undercover officers are strictly forbidden from having sexual relationships with the activists they are spying on, describing the situations as "grossly unprofessional" and "morally wrong".
But that claim has been undermined as many of the officers who have been unmasked have admitted to, or have been accused of, having sex with the targets of their surveillance.
Last month eight women who say they were duped into forming long-term intimate relationships of up to nine years with five undercover policemen started unprecedented legal action. They say they have suffered immense emotional trauma and pain over the relationships, which spanned the period from 1987 to 2010.
Until now it was not known that police had secretly fathered children while living undercover. One of them is Lambert, who adopted a fake persona to infiltrate animal rights and environmental groups in the 1980s.
After he was unmasked in October, he admitted that as "Bob Robinson" he had conned an innocent woman into having an 18-month relationship with him, apparently so that he could convince activists he was a real person. She is one of the women taking the legal action against police chiefs.
Now the Guardian can reveal that in the mid-1980s, just a year into his deployment, Lambert fathered a boy with another woman, who was one of the activists he had been sent to spy on.
The son lived with his mother during the early years of his life as his parents' relationship did not last long. During that time, Lambert was in regular contact with the infant, fitting visits to him around his clandestine duties.
After two years, the mother married another man and both of them took responsibility for raising the child. Lambert says the woman was keen that he give up his legal right to maintaining contact with his son and cut him out of her new life. He says the agreement was reached amicably and he has not seen or heard of the mother or their son since then.
Lambert did not tell her or the child that he was a police spy as he needed to conceal his real identity from the political activists he was spying on. The Guardian is not naming the woman or the child to protect their privacy.
Lambert was married during his secret mission, which continued until 1988.
The highly secretive operation to monitor and disrupt political activists, which has been running for four decades, has come under mounting scrutiny since last year following revelations over the activities of Mark Kennedy, the undercover police officer who went rogue after burying himself deep in the environmental movement for seven years.
Police chiefs and prosecutors have set up 12 inquiries over the past year to examine allegations of misconduct involving police spies, but all of them have been held behind closed doors. There have been continuing calls, including from the former director of public prosecutions Ken Macdonald, for a proper public inquiry.
The second case involves an undercover policeman who was sent to spy on activists some years ago. He had a short-lived relationship with a political activist which produced a child.
He concealed his real identity from the activist and child as he was under strict orders to keep secret his undercover work from her and the other activists in the group he infiltrated. He then disappeared, apparently after his superiors ended his deployment. Afterwards, she remained under surveillance as she continued to be politically active, while he carried on with his police career.
The Guardian understands that as he had access to the official monitoring reports, he regularly read details of her life with a close interest. He watched as she grew older and brought up their child as a single parent, according to an individual who is aware of the details of the case.
The policeman has been "haunted" by the experience of having no contact with the child, whom he thought about regularly, according to the individual.
http://www.guardian.co.uk/uk/2012/jan/20/undercover-police-children-activists
Never trust anyone seems to be the motto, a rather sad one!
Mr Lambert was a married man, he would have done well to remember that!
I feel sorry for the children, and the women after these men just disappeared from their lives.
Nems Again wrote:Mr Lambert was a married man, he would have done well to remember that!
I feel sorry for the children, and the women after these men just disappeared from their lives.
I've heard of getting into character, but that is taking things much too far!
Undercover police cannot be banned from having sex with protesters because it would become a 'litmus test' to discover their true identity, a watchdog admitted last night.
The chief inspector of constabulary said officers who infiltrate groups of suspected extremists have never been explicitly stopped from striking up romantic liaisons with their targets.
Sir Denis O'Connor said broad rules are in place governing their behaviour but they must remain secret to stop them being used as a weapon to 'out' police spies.
The police watchdog was called in after several high-profile cases led to a secretive police unit being branded the 'under the covers squad'. Among them was Met officer Mark Kennedy who conducted a string of affairs with eco-activists over seven years as he worked undercover across Europe. His former colleague Jim Boyling married a campaigner and fathered two children after infiltrating the anti-capitalist movement Reclaim the Streets.
Sir Denis said highly-trained undercover officers must act with the same level of integrity as their uniformed colleagues on the beat. But he admitted that there is no written rule explicitly banning them from conducting sexual relationships as part of their cover. His comments came after a senior colleague branded affairs between undercover officers and the public as 'grossly unprofessional' and 'morally wrong'.
Sir Denis said: 'The code expects the best from police officers. They are governed by regulations and the law when they're undercover as they are when they're wearing the uniform. But it would be unwise for us to get into details about their behaviour because there are people who study these things and they would automatically become tests for those individuals.'
The former Surrey chief constable was speaking as he unveiled a report into controversial undercover operations in which officers infiltrate protest groups.
No sex ban: Sir Denis O'Connor said officers were not banned from having relationships with targets - but he refused to outline the rules to stop guidelines being used to 'out' spies
He said anonymous officers have helped stop bombs and guns getting into the hands of extremists and disrupted plots aimed at disrupting power supplies and railway lines. But tighter controls are needed to protect the public from unnecessary intrusion and an independent body should approve long-term operations.
Sir Denis highlighted how the Home Secretary must sign off a 15 second wire-tap but an assistant chief constable can authorise an undercover operation lasting years. He said oversight of work to target extremists and protesters was weaker compared to operations against organised criminals and terrorists. This was probably because they were often only trying to find out what protesters were up too rather than gather evidence for a potential court case.
Sir Denis said there must be a clearer distinction between work to monitor potentially disruptive protests and investigations into extremist organisations. And he revealed one case involving control of the Met's now-disbanded Special Demonstration Squad (SDS) is being studied by the Independent Police Complaints Commission (IPCC).
The review was one of three ordered in the wake of the collapse of a £1million trial of six protesters accused of planning to invade Britain's second largest power station. Mr Kennedy, who spent years among the group posing as long-haired drop-out climber Mark 'Flash' Stone, triggered the crisis by offering to help the defendants. Revelations about his activities, including a string of affairs, led to calls for an independent inquiry into undercover policing.
In the latest review Mr Kennedy was found to have ignored orders, set his own agenda and even carried on working after being arrested. Officials admitted that senior officers lost control of him and may never know what he got up to while travelling across 11 countries, often with other protesters.
Chief Constable Jon Murphy, head of serious and organised crime for the Association of Chief Police Officers, said undercover officers play a 'critical role'. Speaking about sexual relationships, he added: 'Police officers are expected to act with integrity, legitimacy and proportionality at all times. The guidance does contain a national code of conduct which is a clear statement of those expectations and standards.'
http://www.dailymail.co.uk/news/article-2095219/Undercover-police-banned-having-affairs-targets.html#ixzz1lFj6SgGY
I give up, what a way to run operations. Sick.

---
Permissions in this forum:
You
can
reply to topics in this forum