• Crown Prosecution Service confirms Terry will be charged
• England captain to appear before court in February
• Pledges to 'fight tooth and nail to prove my innocence'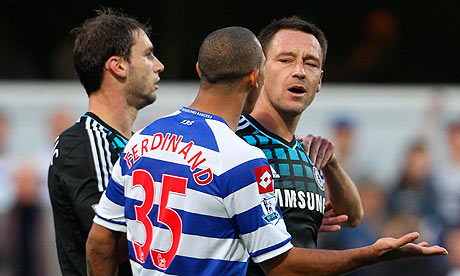 John Terry denies making a racial slur against Anton Ferdinand when Chelsea played QPR in October. Photograph: Nick Potts/PA
John Terry will fight "tooth and nail" to clear his name after the Crown Prosecution Service confirmed its intention to prosecute the England captain over an alleged racist slur made towards the Queens Park Rangers defender Anton Ferdinand.
The Chelsea centre-half, who denies any wrongdoing, will appear before West London magistrates' court on 1 February charged with a racially aggravated public order offence made during an altercation with Ferdinand in the derby with QPR at Loftus Road on 23 October.
The 31-year-old's club manager, André Villas-Boas, has reiterated that he will benefit from Chelsea's full support, with Terry set to start Thursday's Premier League game at Tottenham Hotspur.
"I am disappointed with the decision to charge me and hope to be given the chance to clear my name as quickly as possible," Terry said. "I have never aimed a racist remark at anyone and count people from all races and creeds among my closest friends. I will fight tooth and nail to prove my innocence. I have campaigned against racism and believe there is no place for it in society."
Terry was caught on camera confronting Ferdinand six minutes from time in Chelsea's 1-0 defeat. The Football Association initiated an inquiry into the incident following a complaint from QPR, with the Metropolitan police following suit in response to an emailed complaint from a member of the public.
The CPS has subsequently confirmed that additional evidence, thought to be new video footage of the incident that was not broadcast at the time, had come to light.
Terry was visited by police at his house in Surrey at around 1pm on Wednesday and was told he has been charged with using "threatening, abusive or insulting words or behaviour, or disorderly behaviour within the hearing or sight of a person likely to be caused harassment, alarm or distress which was racially aggravated in accordance with section 28 of the Crime and Disorder Act 1998".
Alison Saunders, the chief crown prosecutor for London, said: "I have today advised the Metropolitan police service that John Terry should be prosecuted for a racially aggravated public order offence following comments allegedly made during a Premier League football match between Queens Park Rangers and Chelsea on 23 October 2011. The decision was taken in accordance with the Code for Crown Prosecutors and after careful consideration of all the evidence I am satisfied there is sufficient evidence for a realistic prospect of conviction and it is in the public interest to prosecute this case. Mr Terry will appear before West London magistrates' court on 1 February, 2012. He is now summonsed with a criminal offence and has the right to a fair trial."
Villas-Boas said Terry, who was reappointed as England's captain earlier this year, will be able to handle the pressure of playing at White Hart Lane. "He has my full support, and the club's full support," the Portuguese said. "He represents this club to a maximum level and we're very grateful to have a player of his quality in our team, in what he represents in terms of history and achievements within the club. We know exactly his human values and his personality. For me they are never in doubt, so I will support him whatever the outcome. He is fit and available [to play]."
If found guilty, Terry would face a maximum fine of £2,500, though there would be serious implications over his captaincy of the national team. The FA, whose own inquiry into the incident has been put on hold until the conclusion of the criminal investigation, has yet to comment on the issue, though Chelsea added in a statement: "The club finds all forms of discrimination abhorrent and we are proud of the work we undertake campaigning on this important issue."
http://www.guardian.co.uk/football/2011/dec/21/john-terry-racism-case-cps
I haven't read much about this not being a big football fan but I've always had a little soft spot for John Terry. Does anyone know what Anton has had to say about it? I always feel such a sense of disappointment when our most talented footballers let themselves down. What a waste

Hi FTL.
Not sure what was said but Chelsea lost that match. It was a tense match and i think he lost his temper.
If terry is found guilty he can kiss his career goodbye ! Shame really

prinze wrote:Hi FTL.

Not sure what was said but Chelsea lost that match. It was a tense match and i think he lost his temper.

If terry is found guilty he can kiss his career goodbye ! Shame really
Hi Prinze

x
You're right and it would be a great shame, a very talented guy

---
Permissions in this forum:
You
cannot
reply to topics in this forum