Brian Dodgeon gets suspended sentence for drugs that caused death of Isobel Jones-Reilly as lawyer calls him a broken man.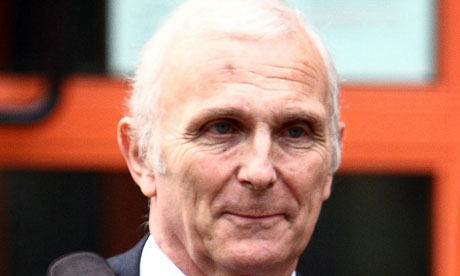 University lecturer Brian Dodgeon admitted possession of Class A drugs at his home. Photograph: Steve Parsons/PA
A judge has told a university lecturer that he will be burdened for life with the death of a girl who took ecstasy at a party at his home.
Isobel Jones-Reilly, 15, died in April after she and other teenagers found class A drugs at the west London home of Brian Dodgeon, 61, a research fellow at the University of London's Institute of Education.
Dodgeon, who tried to kill himself by jumping from a road bridge a week later, was sentenced at Isleworth crown court, west London, to eight months in jail, suspended for two years.
Judge Andrew McDowall told him: "The worst punishment you can have is one that will last for the rest of your conscious life – the knowledge of these drugs and your failure to keep them secure from teenage experimentation has resulted in a death. You know that and it is obviously a burden for you. The failures of communication between parents and teenage children are very often the subject of humour. But the failures of knowledge and communication sometimes have terrible results, as happened here."
The court heard his daughter's party, held on 22 April, was attended by about 30 young people who drank cider, wine and spirits, and smoked marijuana. Beatrice, his daughter, told partygoers she had previously found a stash of cannabis in her father's drawer, and three of the teenagers went to an "out-of-bounds" bedroom to find some more. They discovered a canister containing a selection of drugs in capsules, plastic containers and bags.
Jones-Reilly, a pupil at Chiswick community school, west London, took two ecstasy tablets and suffered an adverse reaction which resulted in her stopping breathing. An ambulance was called and she was taken to St Mary's hospital, Paddington, but pronounced dead at 6.30am on 23 April. Beatrice and two 14-year-old boys also needed hospital treatment.
Dodgeon, who admitted four counts of possessing drugs, told police he was a recreational drug user and described himself as an "old hippie". It had "never crossed his mind" that someone would find the drugs.
A week after the incident, he attempted suicide by leaping from a bridge over the north circular road in Walthamstow, east London. He required brain surgery after fracturing his skull, and broke numerous bones including a femur, an elbow and a heel.
He hobbled into court using a crutch and looked devastated in the dock throughout the hearing.
Sarah Elliott, mitigating, said he was a "broken man" who was wracked by remorse and guilt as a result of the death. He had and his partner considered their daughter a "responsible, mature" girl whom they could trust to leave alone at home, she said.
Dodgeon, who is suspended from his job, faces further disciplinary action. He is subject to a six-month curfew.
http://www.guardian.co.uk/uk/2011/dec/02/lecturer-drugs-cache-killed-teenager
Two families lives ruined and for what? I feel sorry for all concerned here, they must be absolutely devastated

A stupid mistake with so many dreadful consequences. Drugs

He should have been given 10 years...for negligent manslaughter...then another 10 for having those drugs in his posession.....

victorismyhero

sael curunithron





Posts

: 2603


Join date

: 2011-02-15


Location

: cheshire



victorismyhero wrote:He should have been given 10 years...for negligent manslaughter...then another 10 for having those drugs in his posession.....
I think the guilt and pain he's going to suffer Victor will remain for the rest of his life, not just 20 years. He made several very costly stupid mistakes. Firstly, trusting teenagers to have a responsible party unsupervised, secondly taking drugs himself and thirdly not ensuring those drugs were safely locked away.
Teenagers will always push the boundaries, I know, I was one once

Old hippy my arse. He is an irresponsible old druggie and a teenager is dead.
Nems Again wrote:Old hippy my arse. He is an irresponsible old druggie and a teenager is dead.
Agreed! How dare he have drugs in the house, and obviously used them, when he had children to consider!

---
Permissions in this forum:
You
can
reply to topics in this forum