Office for National Statistics finds that Britons rate their 'life satisfaction' at 7.4 out of 10, despite the looming recession.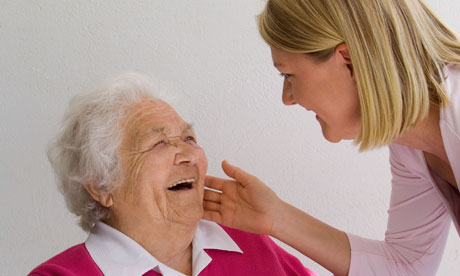 A happy nation? According to the Office of National Statistics we are. Photograph: Alamy
Most Britons report being satisfied with life, with concerns over work and precarious finances being outweighed by the happiness gained from children, relationships and where people live, according to a landmark survey by the Office for National Statistics.
Released just days after economists forecast that the forthcoming recession would be deep, long and leave the public in 2015 worse off than they were in 2002, the government survey paints a picture of the country largely untouched in an emotional sense by the looming crisis.
The survey of 4,200 adults, conducted between April and August 2011, is part of the prime minister's £2m drive get a better measure of how the country is doing rather than just focussing on GDP. The ONS's work showed that on average people rated their "life satisfaction" at 7.4 out of 10. When asked whether "things they did in life" were "worthwhile", people on average gave a score of 7.6.
However there were signs of stress seeping through British society. Satisfaction with respondent's financial situation had the lowest mean score of 6.2 out of 10, followed by work situation, 6.7 out of 10. When asked specifically about satisfaction with the balance between time spent on paid work and on other aspects of life, low scores were also given, with an average of 6.4 out of 10.
People were most satisfied with their personal relationships and mental well-being, which had the highest mean scores - both scored at 8.3 out of 10. Also of concern to policy makers would be then answer given to the question "overall, how anxious did you feel yesterday?". More than quarter rated this at 5 out of 10 - where 10 was feeling "completely anxious".
Age also played a part. The ONS reported that there appears to be a "U shape relationship for the 'life satisfaction', 'worthwhile' and 'happy yesterday'" questions. Younger and older adults in Britain reported higher levels to these questions than people in their middle years. The highest levels were for those aged 16 to 19 and aged 65 to 74.
Paul Allen of the ONS said that another big factor was health. "We see that people who responded that when their health was bad that they would report anxiety. What we are trying to build up is a picture of how people rate happiness".
One of the most revealing aspects of the emerging science around happiness is about language. Britons associated happiness with being "calm, relaxed and peaceful" rather than "energised and excitement". Allen said this could be seen in the placards held up by strikers on Wednesday's marches. "They held up signs saying 'we are not happy about this'. It was very British".
http://www.guardian.co.uk/uk/2011/dec/01/britons-happy-despite-financial-woes
Money isn't everything eh?

x
What would your level of "life satisfaction" be?


---
Permissions in this forum:
You
can
reply to topics in this forum