Justice secretary proposes new offence of causing serious injury by dangerous driving, which will carry five-year tariff.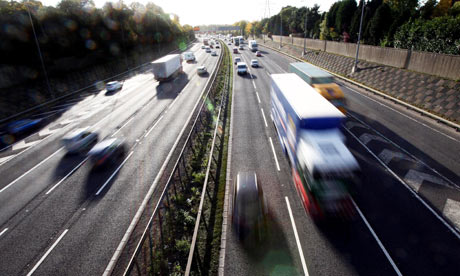 Dangerous drivers who cause serious injuries on the road could be jailed for up to five years under new plans. Photograph: David Jones/PA
Dangerous drivers who seriously injure other people will face a maximum five-year jail sentence under plans announced by the justice secretary, Kenneth Clarke.
Clarke is proposing a new offence of causing serious injury by dangerous driving to meet the concerns of victims, their families and road safety groups that the current two-year maximum sentence for dangerous drivers is not sufficient in cases where life-changing injuries are involved.
The new offence, which will also carry an unlimited fine alongside the prison term, is to be introduced as an amendment to the government's legal aid, sentencing and punishment of offenders bill.
Justice ministers say they recognise that dangerous driving offences can be difficult to prosecute because it is difficult to prove that an injury was caused by a brief lapse in concentration.
More than 3,000 drivers were convicted of dangerous driving last year. A further 154 were found guilty of causing death by dangerous driving which carries a maximum sentence of 14 years.
The justice secretary said he recognised that there was a gap in the law between the standard dangerous driving offence and death by dangerous driving.
"We have listened to the victims of dangerous drivers, their families, MPs, judges and road safety groups and their experiences have directly informed these changes," said Clarke. "Making our roads safer is a priority – five people died on our roads each day last year, so we need to do everything we can to further improve road safety.
Ellen Booth, of the road safety charity Brake, which campaigns to curb the 1,850 death toll on the roads each year, said: "This new offence finally means that serious injury is recognised within the title of the offence, and this recognition is vitally important to victims and their families. It also means that dangerous drivers who inflict serious injuries can expect to see higher sentences to better reflect the terrible trauma and injuries they have caused."
Andrew Howard, the head of road safety at the AA, added: "Dangerous drivers should face the consequences of their actions. These law changes should make sentences more proportionate to the devastation dangerous driving causes."
Karl Turner, the Labour MP who introduced a private members bill calling for longer sentences for dangerous drivers, said he welcomed the announcement: "I am delighted that the government has finally seen sense, have listened to the victims of this crime and heeded Labour's calls for longer sentences for causing serious harm by dangerous driving. I have been lobbying the government to increase the maximum sentence for dangerous driving since being elected last year on behalf of victims of this very serious crime. It's about time they were put first by this government."
The last Labour government said it wanted to increase prison terms for those who caused serious injury by dangerous driving but ran out of parliamentary time before it could introduce the necessary legislation.
http://www.guardian.co.uk/uk/2011/oct/07/dangerous-drivers-longer-jail-terms
Yes, it is good to see the victims of crime being put first for once. I would also like to see longer bans, strict training programmes along with retesting depending on the severity of the crime


---
Permissions in this forum:
You
can
reply to topics in this forum