Prisoners in Britain are being pampered with luxury menus offering five meals a day, with 79 choices of what to eat a week, a British National Party investigation has revealed.
The menu for HMP Forest Bank in Pendlebury, near Manchester, was obtained by Salford British National Party organiser Gary Tumulty.
The menu gives inmates in the Category B prison up to twelve choices of meals a day and provides, breakfast, lunch, dinner, sweet and supper.
It also lists dozens of halal meals, many of which are denoted as "Healthy Eating" options by a picture of a heart.
"At the height of all the cutbacks, prisoners at Forest Bank are being treated much better than our own normal law-abiding citizens," said Mr Tumulty.
"Five-star bed and breakfast luxury treatment is being applied at the prison.
The prisoners are being fed much better than our troops on the front line.
"The prisoners are given a fine choice of five meals a day to pick from on a weekly basis, no expense spared.
A menu is sent round to each prisoner in his cell to select what he would like.
HMP Forrest Bank is contracted out to Kalyx, a private sector security company.
Not only do prisoners get a PlayStation and Sky Television, but they now get served on hand and foot, all at the expense of the taxpayer.
"I find it really hard to grasp that someone who breaks the law would get the star treatment of such standards.
Pensioners are starving to death in the winter, having to pick from warmth or food, and troops on the front line do not even get fed properly – and they are fighting for queen and country – so who says crime doesn't pay?
"We in Salford think it's a total disgrace."
A scan of the menu at HMP Forest Bank is below.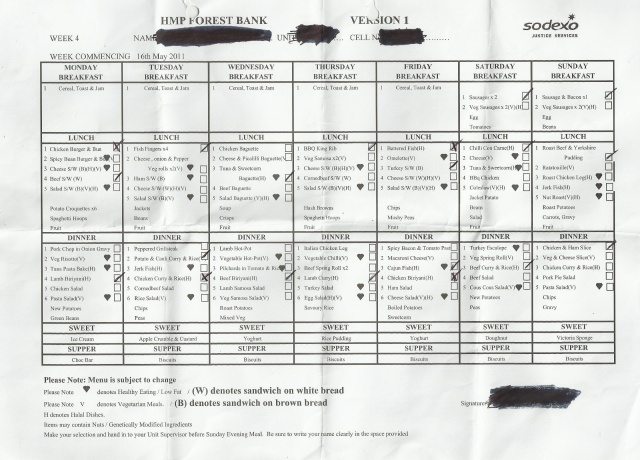 ---
Permissions in this forum:
You
can
reply to topics in this forum